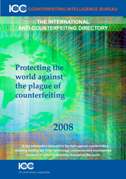 Published annually and updated online, the International Anti-Counterfeiting Directory (IACD) is unique in providing a key information resource that details leading law firms, technology companies and investigators from around the world that specialise in anti-counterfeiting.
Divided into three main sections, the Directory lists law firms, their areas of expertise and contacts; details of firms producing anti-counterfeiting technologies, with detailed descriptions of their products and techniques; together with a list of firms that specialise in counterfeit investigations. Each section of the Directory is listed alphabetically according to country of origin, so once you know which service you want it's a simple step to find out who in your own country can provide it.
The beginning of the Directory is updated with articles on aspects of counterfeiting and brand protection written by leading experts in the field, whilst at the back is a range of information that keeps members up-to-date with recent cases, statistics, and lists of useful contacts around the world that can offer advice and assistance. Finally, there is an explanation on how companies can go about devising and implementing their own anti-counterfeiting strategy.
Please click here to download the 2009 edition (pdf).
{Fabrik view = form id=92}